Unburnable carbon 2013 (Carbon Tracker/LSE)
Carbon Tracker / April 2013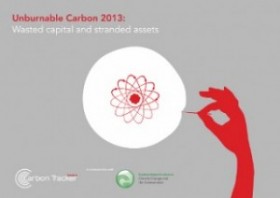 This report argues 60-80% of total fossil fuels reserves (oil, coal and gas) are technically 'unburnable' if we want to reduce the chances of the global temperature increasing by 2°C. Instead of continuing to invest in fossil fuel exploration (estimated at US$674 billion in 2012) investors should shift to low-carbon investments.
This is the latest of several reports from Carbon Tracker over the last few years that have led to international debates on 'unburnable carbon'.
Currently total global fossil fuel reserves are around 2,860 GtCO2. However, the carbon budget is 900 GtCO2 (for an 80% probability to stay below 2°C) or 1075 GtCO2 (for a 50% probability).
Governments around the world have agreed to avoid going past the 2°C threshold that could lead to runaway climate change. If governments were to enforce policies to comply with this target then the world's fossil fuel reserves would become 'unburnable'.
Relevant actors are not factoring in this climate risk or the potential carbon bubble that will build up over the next decade as US$$6 trillion is used to develop fossil fuels that will effectively be 'unburnable' (stranded assets).
The report recommends investors, ratings agencies, financial regulators and governments start to address the carbon bubble by honestly assessing the impact of 'unburnable carbon' on their investments. Currently fossil fuel reserves support "share value of US$4 trillion in 2012 and service US$1.27 trillion in outstanding corporate debt".
The majority of the world's coal, oil and gas reserves are listed on stock exchanges in New York, London and Moscow.
In terms of Carbon Capture and Storage the report concludes the technology will probably only be adopted from 2030 which will be too late.
See also: Carbon Tracker: What A Carbon-Constrained Future Could Mean For Oil Companies' Creditworthiness (March 2013)
Carbon Brief blog: Does the financial sector believe in unburnable carbon? (February 2013)
————————————
This summary was prepared by Why Green Economy?. The views expressed have been paraphrased. See the original source for more information.