Tests of success for the SDGs (Stakeholder Forum)
A tool for designing and assessing Sustainable Development Goals and targets / Stakeholder Forum / May 2014
The mandate to develop Sustainable Development Goals (SDGs) was one of the main outcomes of the UN Conference on Sustainable Development (Rio+20) held in Rio in June 2012.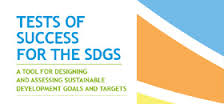 A new tool called the Tests of Success for the SDGs has been developed by Stakeholder Forum for a Sustainable to support governments and other stakeholders to create and choose ambitious and effective sustainable development goals (SDGs) and targets, which fulfil the commitments made by world leaders at Rio+20.
Frequently Asked Questions about the post-2015 process covering:
The differences and links between the SDGs and MDGs processes
How to engage with the post 2015 framework
For more detailed FAQs see the Report of the UN System Task Team on the Post 2015 UN Development Agenda

Website administered by Stakeholder Forum for a Sustainable Future This website is an interactive online tool for all stakeholders to share research and recommendations on the global goals. The e-inventory allows users to search by stakeholder, thematic area, region and country. SDGs E-inventory   See also: Post2015.org Goals Tracker and Analysis of the post 2015 framework
————————————
This summary was prepared by Why Green Economy?. The views expressed have been paraphrased. See the original source for more information.