Key arguments against REDD+ (Carbon Trade Watch)
Carbon Trade Watch / June 2011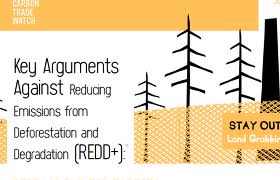 According to Carbon Trade Watch REDD (Reducing Emissions from Deforestation and Forest Degradation in developing countries) is a "global initiative to create a financial value for the carbon stored in forests to compensate governments and companies or owners of forests in developing countries not to cut their carbon-rich forests or to reduce their rate of deforestation and forest degradation as a market mechanism to avoid greenhouse gas emissions".
Arguments against the REDD scheme include:
It does not address the drivers of deforestation
It creates the perverse incentive to accelerate logging now to then claim money for avoided deforestation in the future
It leads to land grabs and human rights abuses against people living in forests
The scientific models used to calculate the amount of carbon captured are flawed
It promotes monoculture tree plantations which have negative social and environmental impacts
It will allow countries and companies in the global north to continue polluting. This will not reduce the burning of fossil fuels that are causing climate change and will continue to affect the health of northern communities
Carbon Trade Watch warns that if REDD+ is successful it could be scaled up so that other environmental services are used as offsets in the future.
See also: Some Key REDD+ Players (Carbon Trade Watch / June 2011)
————————————
This summary was prepared by Why Green Economy?. The views expressed have been paraphrased. See the original source for more information.