World People's Conference on Climate Change and the Defense of Life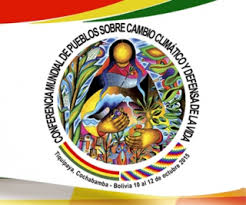 The summit was held in October 2015 in Bolivia 
The aim of the event was to propose solutions to tackle climate change ahead of the UN climate change conference in Paris at the end of 2015. The first conference on climate change and the rights of Mother Earth was held in Bolivia in 2010.
According to IISD reporting service: "The conference concluded with the adoption of a statement that demands that the Declaration of Rights of Indigenous Peoples be fully recognized, implemented and integrated into the climate change negotiations. It also mentions a proposal within the UN Framework Convention on Climate Change (UNFCCC) on a 'Climate Justice Index.' It further calls on developed countries to commit to quantified emissions reduction targets, based on their differentiated responsibilities, and to honor their climate debt.
The statement also calls for, inter alia: an International Climate Justice Tribunal; the creation of a multilateral and multidisciplinary mechanism for participatory control, management and ongoing evaluation of the transfer and exchange of technology and knowledge; universal recognition of the rights of Mother Earth; climate science that serves humanity and Mother Earth, not capitalism; and the strengthening of the non-commercialization of nature."
United Nations Secretary-General Ban Ki-moon also attended the summit and said among other things that the concept of living well in harmony with Mother Earth was a reminder "that well-being is not only about material advantages, but social and spiritual well-being" and that "well-being cannot be achieved without respecting and protecting our planet." He said these ideas "were also recently and powerfully echoed by His Holiness Pope Francis" in his speech to world leaders at the UN in September 2015.
Alternative meeting – Mesa 18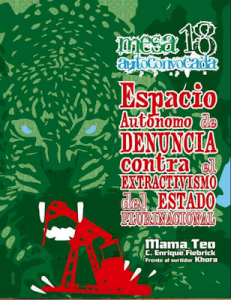 An alternative meeting was held where the environmental record of the Bolivian government was heavily criticised. The final statement says the "policy of the government of Evo Morales to protect the Rights of Mother Earth has failed" as it deepens extractive projects (oil, gas, mining), nuclear power, large-scale dams, agribusiness and promotes the use of GMOs.
Selected quotes from the final statement
In the case of Bolivia the government should commit to reducing carbon emissions from deforestation and land use change – the main cause of emissions of greenhouse gases in Bolivia – establishing a committed public policy "zero deforestation" to 2025

We denounce and oppose the dismantling, colonization, privatization and dispossession of indigenous territories and national parks.

We call on all Bolivian and world citizens to form a single alliance in defense of life, forests, water, the environment, food sovereignty, freedom of expression and democracy.
————————————
This summary was prepared by Why Green Economy?. The views expressed have been paraphrased. See the original source for more information.