The Green Shock Doctrine (GJEP)
Global Justice Ecology Project / December 2013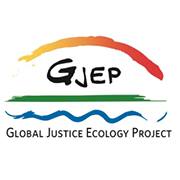 This report strongly criticises the green economy arguing it is a false solution to address climate change. GJEP say it is too late to simply reform the global economy, it needs to be transformed.
The report charts the rise of the green economy since the 1997 Kyoto Protocol via the proposal for Reducing Emissions from Deforestation and Forest Degradation (REDD), the Green Climate Fund and the The Economics of Ecosystems and Biodiversity (TEEB). It also discusses the civil society groups who reject these proposals.
Part two of the report looks at public-private partnerships and the role of conservation NGOs in backing projects such as REDD+ as solutions to deforestation and climate change.
Selected quotes from the report
This "Green" version of the Shock Doctrine involves use of global ecological and social crises to create a whole new system of economics based on financial speculation and trade in so-called "environmental services."

It is called the Green Economy and provides the framework to privatize and commodify every natural organism and ecosystem on the planet, along with the so-called "services" they provide – such as clean water. Social movements, Indigenous peoples, peasants and grassroots groups are denouncing this greening of Capitalism, designed to enable the continuation of business and profits as usual.
————————————
This summary was prepared by Why Green Economy?. The views expressed have been paraphrased. See the original source for more information.