Reducing emissions from aviation: carbon offsetting?
In October 2016 member countries of the UN's International Civil Aviation Organization (ICAO) will meet to finalise an agreement on how to reduce emissions from aviation. The two briefings below offer opposing views on whether carbon offsetting should be included in this agreement via a global market-based mechanism.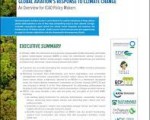 This briefing argues: "Harnessing the aviation sector's commitment to curb its emissions to help reduce global deforestation is one of the most compelling ways to slow climate change, maintain ecosystems upon which the whole world depends and improve the livelihoods of 1.6 billion people."
"ICAO and the world should seize this opportunity to meet its climate objectives and the Sustainable Development Goals."
According to the briefing: "Reducing emissions from deforestation and forest degradation, and sustainable management of forests, conservation of forest carbon stocks and enhancement of forest carbon stocks (collectively referred to as REDD+) is a framework developed under the United Nations Framework Convention on Climate Change (UNFCCC) and was included in Article 5 of the Paris Agreement for addressing deforestation by helping society value forests for their carbon sequestration, storage and other services."
The briefing argues that "REDD+ has many benefits in line with the goals and principles of the ICAO MBM, including:
An existing policy framework for reducing deforestation, sustainably managing forests, enhancing forest carbon stocks, and delivering both carbon and noncarbon benefits;
Incentives to protect, restore and sustainably manage forests and their natural capital with almost a decade of proven results;
Benefits beyond emissions reductions, as REDD+ can also protect biodiversity, support local communities and ensure that vital ecosystem functions remain intact;
Robust and cost-effective REDD+ offsets which can play a key role in filling the emissions gap and supporting the aviation sector to meet its climate goals."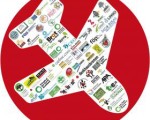 Meanwhile a group of over 80 environmental NGOs, including Fern, Transport & Environment, Greenpeace and Friends of the Earth "has called on the aviation sector to adopt a serious plan to address its impact on climate change, rather than the proposed use of carbon offsetting that the International Civil Aviation Organization (ICAO) is planning to adopt. 
The briefing argues: "Aviation is one of only two sectors worldwide with no existing targets to reduce emissions. Under business-as-usual, aviation is projected to increase emissions by between 300-700 per cent by 2050. In September 2016, the International Civil Aviation Organization (ICAO) plans to adopt measures to achieve "carbon-neutral growth" from 2020. To achieve this, the main proposal on the table is carbon offsetting. As countries involved in ICAO are consulted on this proposal, the undersigned organisations call on them to ensure that ICAO will adopt a serious plan to reduce emissions. Plans to offset the majority of the sector's growth in emissions are a significant distraction from real measures to reduce aviation emissions."
The briefing criticises REDD+ as a solution by concluding: "in short, land-based offset credits are controversial, and experience from REDD+ has shown that certification standards or safeguards cannot prevent conflicts."
For updates see: Carbon Market Watch page on reducing aviation emissions
————————————
This summary was prepared by Why Green Economy?. The views expressed have been paraphrased. See the original source for more information.