Payments for Ecosystem Services – Getting Started (Katoomba Group)
An Introductory Primer to Assessing and Developing Payments for Ecosystem Service Deals / Katoomba Group / 2008

The Katoomba Group was established in 1999 by Forest Trends. It is an international working group made up of experts from different sectors (forests, energy, finance, environment) focused on markets and Payments for Ecosystems Services (PES).
Some examples of ecosystem services cited are:
Purification of air and water
Generation and renewal of soil and soil fertility
Pollination of crops and natural vegetation
Control of agricultural pests
Aesthetic beauty and landscape enrichment
The two basic premises of PES are:
That ecosystem services have quantifiable economic value
That this value can be used to entice investment in restoration and maintenance.
How does PES work?
A PES scheme ensures ecosystem services are maintained in exchange for something of economic value. But crucially the payment has to be for services that would not have continued without the scheme so that they are in addition to what is known as "business as usual" e.g. deforestation. The way to check this is to have systems in place to independently verify ecosystem services were conserved that would not have happened without the PES scheme.
In summary there are several stages that have to be met in a PES scheme:
A voluntary transaction in which
A well-defined environmental service (ES), or a form of land use likely to secure that service
Is bought by at least one ES buyer
From a minimum of one ES provider
If and only if the provider continues to supply that service (conditionality)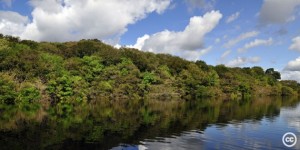 Types of Markets for PES
Public payments to private land owners: Governments pay land owners to conserve specific ecosystems such as forests that ensures benefits for other areas.
Formal markets: Legislation determines a limit (a 'cap') on damage to ecosystem services. Buyers and sellers trade to reduce damage.
Voluntary markets (based on legislation or self-organized private deals): Stakeholders (e.g. companies, landowners etc) sell and buy services to protect them.
Benefits and risks of PES for local communities
The report says the main focus of PES are to offer economic incentives to maintain ecosystem services. They are not designed to reduce poverty but can increase incomes for poor communities whose livelihood is dependent on using natural resources (e.g. farming and forestry).
Benefits of PES
A scheme could mean communities' property rights are formalized
"Ripple effects". By protecting ecosystem services in an area communities receive indirect benefits such as water purification and defence against natural disasters.
Risks of PES
Inadequate understanding of what is being bought and sold e.g. confusion over resource and ecosystem service rights: biodiversity offsets payments would not necessarily imply accompanying control over biological or genetic resources.

Loss of rights to harvest products, or environmental services e.g. access to forests for food, fuel, non-timber forest products, medicines.

Increased competition for land, or loss of rights to land. Success with PES could attract speculative investors, which could in turn squeeze out indigenous landowners, especially where low levels of tenure security exist.

Unfair sharing within a community of revenues (see Box 25 on page 48 for more information on criteria for assessing pro-poor PES: Pareto criterion, Equity Gap Principle and Fairness Principle).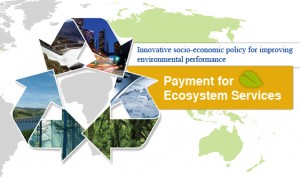 Step-by-Step Approach to Developing PES Deals
The Katoomba group recommend going through the following steps
To start an organization has to measure the types of ecosystems in an area (e.g. carbon capture) and then calculate their value. Once this has been done potential buyers can be identified.
See pages 22 and 32 for Tools to measure the value of ecosystem services e.g. carbon, water and biodiversity.
Next an organization needs to understand the conditions the PES deal will operate in. This includes clarifying property rights and assessing the impact of existing legislation (e.g. regulations)
Now the organization can work on its business plan and draft contracts to see how the PES deal would work (e.g. costs and payments. 
Options for payment types:
Direct financial payments e.g. compensation for opportunity costs or loss of livelihood incurred by ecosystem service protection, such as the conversion of managed farmland to natural forest.
Financial support for specific community goals e.g. building of a school or clinic to remunerate for ecosystem services
In-kind payments e.g. such as the beehive-for-conservation payment transaction that Fundación Natura is making in Bolivia
Recognition of rights e.g. increased land rights and increased participation in decision-making processes.
Contract types
Memorandum of Understanding (MoU) or Memorandum of Agreement (MoA)
Legal contracts
Customary law agreements
'Handshake' agreements
Quid-pro-quo arrangements
Finally the organization can design policies to monitor, evaluate, certify and verify its PES project. These are crucial for all stakeholders involved (sellers, buyers etc)
————————————
This summary was prepared by Why Green Economy?. The views expressed have been paraphrased. See the original source for more information.