Introductory Learning Materials on Green Economy (PAGE)
Partnership for Action on Green Economy (PAGE) / 2016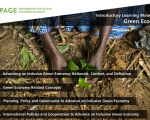 These introductory learning materials provide basic information about different areas of the green economy. PAGE notes that "green economy is gaining momentum and attracting the attention of policy-makers, civil society stakeholders, and business agents from around the world" and that "the number of countries developing and implementing green economy strategies and policies is growing".
Topics are grouped under four headings:
Advancing an inclusive green economy: Covers definitions of a green economy including green growth.
Green economy related concepts: Covers natural capital, resource efficiency and green jobs.
Planning, policy and governance to advance an inclusive green economy: Covers fiscal tools, budgets and the link with gender and poverty reduction.
International policies and cooperation to advance an inclusive green economy: Covers the international initiatives pushing for a green economy and and international funding sources (including the GEF, Green Climate Fund, UN REDD and Climate Investment Funds).
————————————
This summary was prepared by Why Green Economy?. The views expressed have been paraphrased. See the original source for more information.