Reclaim the UN from corporate capture (Friends of the Earth Int)
Friends of the Earth International / June 2012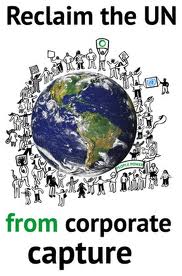 Friends of the Earth released this report before the 2012 Rio+20 conference to draw attention to what it argues is the increasing influence of corporations over the United Nations system.
The report says companies are exerting pressure:
Via national government delegations,
Presence of business in UN bodies and discussion spaces
A revolving door between UN bodies and the private sector
Increasing dependence of the UN on private sector funding
Several areas are identified where business has shaped agendas and outcomes. These are UNEP's Green Economy Report, the Sustainable Energy for all (SE4ALL) initiative, the International Fund for Agricultural Development (IFAD), the Convention on Biological Diversity, water policy and finally the Global Compact.
Selected quotes from the report
The UN is the most democratic and appropriate global institution to address these issues and should provide the best forum for international negotiations. All 192 countries from around the world are included, with each country having an equal voice, at least in theory.

We present a number of cases that clearly expose how UN policies and agencies have been excessively influenced by the corporate sector. We also show how this damages the ability of the UN to solve the various problems it is tasked with, removing its willingness to address the role of major corporations in causing many of the environmental, social, food and economic problems that the world faces today. Instead, this all too often results in new UN policies that mainly benefit these same corporate actors that created the problems in the first place.

In the areas of climate change, food and agriculture, biodiversity, human rights and beyond, governmental positions have been increasingly hijacked by narrow corporate interests linked to polluting industries and industries seeking to profit from the environment, the climate and the economic and financial crises.
————————————
This summary was prepared by Why Green Economy?. The views expressed have been paraphrased. See the original source for more information.